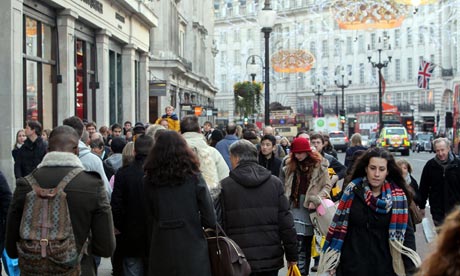 Christmas shopping in the West End, 2012. Photograph: Steve Parsons/PA
Since 2005 one day in the pre-Christmas shopping period has enabled London to imagine how different consumer life in the West End might be if Oxford Street and Regent Street were emptied of motor vehicles. Named "VIP Day" – Very Important Pedestrians – it has been hailed a success by road safety campaigners and anti-pollution campaigners and West End businesses alike. This year, though, there won't be one. Why? And can we please have it back?
The New West End Company (NWEC), which represents businesses in their collective endeavours to promote and improve the area, says that retailers decided to concentrate their resources on other things this year, notably a collaboration with the British Fashion Council.
The lack of a sponsor, following the end of a three-year arrangement with American Express, was a significant factor in the decision – Westminster Council, Transport for London and others all charge for the necessary organisation of VIP Days – which came out of the customary annual review of promotional activities. There is, it seems, at least some debate about how big the sales benefits are. After weighing all pro and cons, it was decided to drop VIP Day this year.
NWEC cannot yet say if VIP Day will re-appear next year, but stresses that traffic-free events of various kinds will "remain part of the annual mix of event and marketing activity." It also says that 2013 has seen the same total number of events with a no-traffic element took place this year as last, drawing particular attention to its "summer Sundays" programme in Regent Street in July.
Two of those other traffic-free events will take place in the next few days: today (Saturday) most of Regent Street will close to vehicles from early afternoon as part of its Christmas Lights Switch On; next Tuesday, the Selfridges section Oxford Street will do the same from 4:00-8:00 pm for further illuminations to take place.
But none of those other events are VIP Days – they lack their scale, their impact and the long glimpses they give of how West End streets might be used differently and better – glimpses of increasing value, perhaps, as the day approaches when Crossrail starts disgorging even more people into what remains London's showpiece retail district.
The West End Commission, which produced its impressive report on the area's future in May, recommended an increase in traffic-free days. And while Westminster councillor Glenys Roberts (Conservative) is pleased there won't be a VIP Day this year – writing that she's glad the NWEC has "taken the advice" she and others resident have provided – the London Assembly displayed rare cross-party unity on Wednesday in unanimously backing a motion calling on Boris Johnson to write to the NWEC to "seek clarification over the future of this popular event."
Stephen Knight (Lib Dem), who proposed the motion, describes as "daft," "baffling," and "highly regrettable" the decision to not have a VIP Day this year. Stern words. But whatever the reasons for this year's change, it would be good to have it back in 2014.
//
YOUR COMMENT